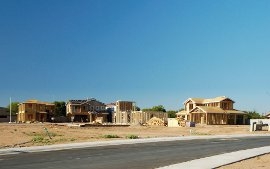 Building a home in FloridaIndividuals that would like to acquire a home in Florida have two basic choices: purchase an existing structure or build a new one from scratch. While both of these approaches have their own particular advantages, many people feel that building a new home is the best way to acquire a Florida house, whether that house is destined to function as a permanent dwelling or a vacation home.
Building a new home offers several distinct advantages. The most obvious is the ability to custom design your new home, setting it out it to meet your own particular needs. Some people try to buy an existing home and retrofit, rehab, and redecorate it to suit their tastes, but this option tends to be much less cost-effective than building from scratch. Special features such as extra-wide doors for wheelchair accessibility can be included at a reasonable cost with a new build; adding these types of features later on can involve major renovations that lead to cost overruns.
Because Florida has a subtropical climate in the north and a full tropical climate in the south, those who would like to construct a house can pursue the project virtually the full twelve months of the year. This is far from the case in other areas of the United States, where harsh winters force a complete halt to many forms of construction, often for several months in a row. In contrast, building in Florida can be fast and efficient.
Modular and pre-fab homes
Although new houses can be put up quickly in Florida, stick-built construction still does take months to complete. Fortunately, there is another option for those who would like to see their new home completed in short order. Modular homes, also known as pre-fab or prefabricated homes, can be constructed very quickly on site because they arrive at the building location as several modules that are already completed. Once attached together and finished, modular homes are indistinguishable from homes that are stick-built at the site. This is an important consideration for Florida property owners. Modular homes tend to appreciate in value just as do traditionally constructed houses. The same cannot be said for "mobile homes," which should not be confused with modular and pre-fabricated housing.
Mobile homes tend to lose their value over time, in part because they are associated with cheap production values and low quality construction. Moreover, the distinctive linear appearance of a mobile home, along with features that may remain visible, such as wheels and tongues, marks it as belonging to a lower tier of housing.
A modular Florida home, in contrast, can have a floor plan that is every bit as complex as a stick-built home. Modular homes can be of any shape and can incorporate more than one story. At the same time, they offer considerable cost savings over traditional building due to the efficiencies of scale that are built into this type of home construction. Builders of modular homes purchase many of their materials in vast quantities, thus benefitting from lower prices due to scale. Modular homebuilders can also move their carpenters, plumbers and electricians from one project to another as needed. This flexibility creates efficiencies that are passed along to the customer in the form of cost savings.
Generous home size
European homes tend to be smaller than their American counterparts, and UK homes sizes are actually the smallest in Europe, with an average footprint of less than 850 square feet. In contrast, the average home in the United States has 2,300 square feet of living space. In this regard, as in so many others, Florida exceeds the national average; in Florida during 2010, the most recent year for which full data is available, the average new home occupied 2,500 square feet.
UK residents that relocate to Florida or enjoy a second-home there during certain periods of the year typically find their Florida property roomy and expansive, with plenty of space to relax both indoors and out. This is because lot sizes in the United States are also quite generous by European standards.
Build a house: Florida luxury options and pricing
The larger lot sizes that predominate in Florida means that in many neighborhoods a backyard pool is a standard feature. This is easy to understand for two reasons. First, the warm climate of the state means that a pool will be in use for a great deal of the year. Just as importantly, the cost of adding a pool to an existing property is quite reasonable in Florida. An in-ground pool can be installed for as little as $25,000.
Because this price is so affordable and because backyards can often accommodate additional features, many homeowners also choose to have a hot tub installed at the same time. This can add an element of resort living to the typical second-home.
For those who might like to build property, Florida is one of the best states in the Union in which to do it. Not only is the climate generally hospitable for year-round construction, the prevalence of modular homebuilders here makes it possible to construct a home quickly and at a low cost. The average price of residential construction in Florida is currently less than $90 per square foot, making the construction market in the "Sunshine State" highly attractive to Americans and foreigners alike.
Why not call us about our amazing "Build-Ready" land opportunities and build your own Florida home? Or click here for more florida land plots for sale.